JURA Coffee Machines

Black

Friday Sale
Black Friday starts early at 1st in Coffee – Check out these Special Deals
In Stock
30 Day Satisfaction Guarantee
2 Year Warranty
Lowest Price Guarantee
FREE Shipping Mainland US over $50
JURA is the innovation leader in automatic coffee machines for the home and workplace, offering a true bean-to-cup experience that is freshly ground, not capsuled.
For those who want the best, JURA machines produce the finest high-pressure-brewed coffee, espresso, cappuccino, flat white, latte macchiato and more, cup by cup.  Fast and easy to operate, they can grind, tamp, froth, brew and self-clean in less than 60 seconds. Frothing options make it easy to froth or steam milk to perfection. JURA commercial espresso machines provide more choices in coffee volume and coffee strength than any competitive brand.
JURA is the first company with a line of one-touch automatic coffee machines that produce coffee specialties at the touch of one button. JURA innovations include Pulse Extraction Process (P.E.P.®), which optimizes extraction time to develop the full flavor of espresso and ristretto – plus the Intelligent Water System (I.W.S. ®) and integrated cleaning and maintenance systems. JURA's app, J.O.E.® (JURA Operating Experience), allows users to easily operate selected JURA automatic coffee machines from their smartphones or tablets.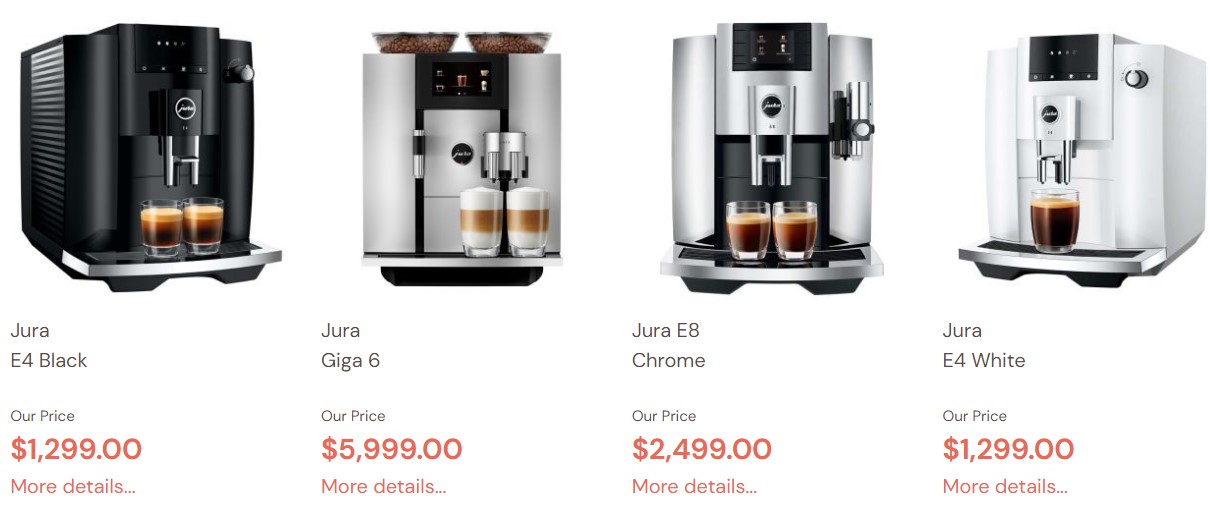 1st in Coffee Deals
JURA coffee machine products have received over 80 major design awards, including the IF Product Design Award, Red Dot Design Award, Housewares Design Award, International Housewares Association Global Innovation Award, and more.
While all of Jura's products are tops for quality, innovation and performance, these models are the most popular in our lineup.
Jura ENA 4: The newest addition to the brand's award-winning line of automatic coffee centers, the ENA 4 is an ultra-compact one-cup machine that brews the perfect cup of espresso. Program the machine for three defined cup sizes, two aroma levels and an aroma preservation cover that keeps the coffee beans fresh. The small but powerful machine also has an intelligent preheating feature that ensures the coffee and crema are the perfect temperature.
Jura ENA 8: Upgrade your caffeine routine with the Jura ENA 8. This award-winning automatic coffee center is the perfect fit for luxury coffee lovers like you. Providing quality, custom espresso beverages at the touch of a button, it's like having a barista on your countertop. Its sleek, compact design optimizes space without sacrificing quality so you never have to compromise.
Jura E8: Innovative technologies in the new JURA E line are revolutionizing the enjoyment of coffee. The One-Touch Cappuccino function on the Jura E8 Black one-touch espresso machine creates trend specialties such as latte macchiato, flat white and cappuccino at the touch of a button. The brewing process for ristretto and espresso has been 100% perfected. The Pulse Extraction Process (P.E.P.©) on the Jura E8 Black one-touch espresso machine is the only process of its kind in the world. It optimizes the extraction time and guarantees the very best aroma even for short specialty coffees.
Jura Giga 6: Setting new standards in performance and aesthetics, the Giga 6 features two ceramic disc grinders, 2.6-liter water tank, a monitored drip tray, two heating systems, a variable brewing chamber, height-adjustable coffee spout and an Intelligent Pre-Brew Aroma system that allows the coffee aroma to fully develop. It's professional technology that lets you brew an unprecedented range of drinks in the comfort of your own home.