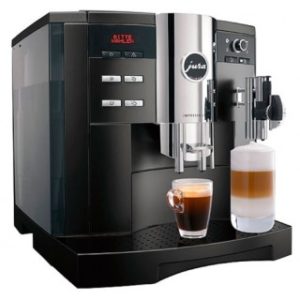 Jura Impressa S9 One Touch Classic Refurbished Sale & Discount
93 review
The Refurbished Jura Impressa S9 One Touch Classic is the most advanced and versatile version yet. One Touch Technology lets you make cappuccino, cafe mocha, latte or latte macchiato with a single touch of a button without moving your cup. It can also grind, tamp and brew 1 or 2 espresso or crema coffee in less than a minute.
WAS: $1,999.00 SALE: $1,299.00 
In Stock
30 Day Satisfaction Guarantee
1 Year Warranty
Lowest Price Guarantee
FREE Shipping Mainland US over $50
1 FREE Gift Included
Key Features:
The Refurbished Jura Impressa S9 One Touch Classic brews from 1 to 16 ounces at a time using just the right amount of fresh ground coffee. The machine features a large 96 oz. removable water tank and 2 stainless steel-lined Thermoblock heating systems. All coffee, milk frothing and hot water functions are fully programmable. You can set the temperature, coffee volume and coffee strength for each button. The Refurbished Jura S9 classic includes an integrated conical burr grinder and a separate coffee shoot for ground coffee. The S9 One Touch also dispenses hot water for tea or Cafe Americano. Other features include: large cup warming area, Clearyl water filtration, Automatic cleaning and rinsing functions, LED Dialog system, electronic sensors and a powerful 15 bar pump.
One Touch Cappuccino
The Refurbished Jura S9 will thrill you with cappuccino or latte macchiato prepared at the touch of a button, no need for you to move the cup.
Coffee à la carte
This Refurbished Jura Espresso Machine flatters the palate with coffee à la carte in all conceivable variations. Allows you to over-ride programmed settings to customize your preferences on the fly.
Height-adjustable coffee spout
Depending on whether you would like to enjoy a ristretto in a small cup or a 8 oz. cup of coffee in a tall mug, you can adjust the coffee spout from 3 to 6 inches.
Factory Refurbished
All Refurbished Jura espresso machines are factory serviced in the USA at a Jura facility. Jura does an excellent job and backs these machines with a 1 Year Mfg. Warranty.
Refurbished Jura Impressa S9 One Touch Classic Customer Reviews
Awesome espresso machine
Review by BARRY T. on 14 Jul 2018review stating Awesome espresso machine
Machine has lived up to everything I read and saw about it and it's functions perfectly
Jura S-9
Review by Frank G. on 25 Jan 2018review stating Jura S-9
Very happy with the Jura S-9 Super automatic coffee with cream is a real treat all milk drinks are very rich and frothy.
S9 Jura
Review by James J. on 18 Nov 2017review stating S9 Jura
This is a great machine for Home. We use it three to four times a week and are getting the hang of using it and enjoying the espresso's we make.
Jura S9 One Touch
Review by William Z. on 13 Jan 2017review stating Jura S9 One Touch
Wow!!! I my wife & I couldn't be any happier… This is one fantastic addition to our happy home.. I can't wait to have that first cup in the morning..
Buy Jura S9 One Touch Classic Refurbished Discount