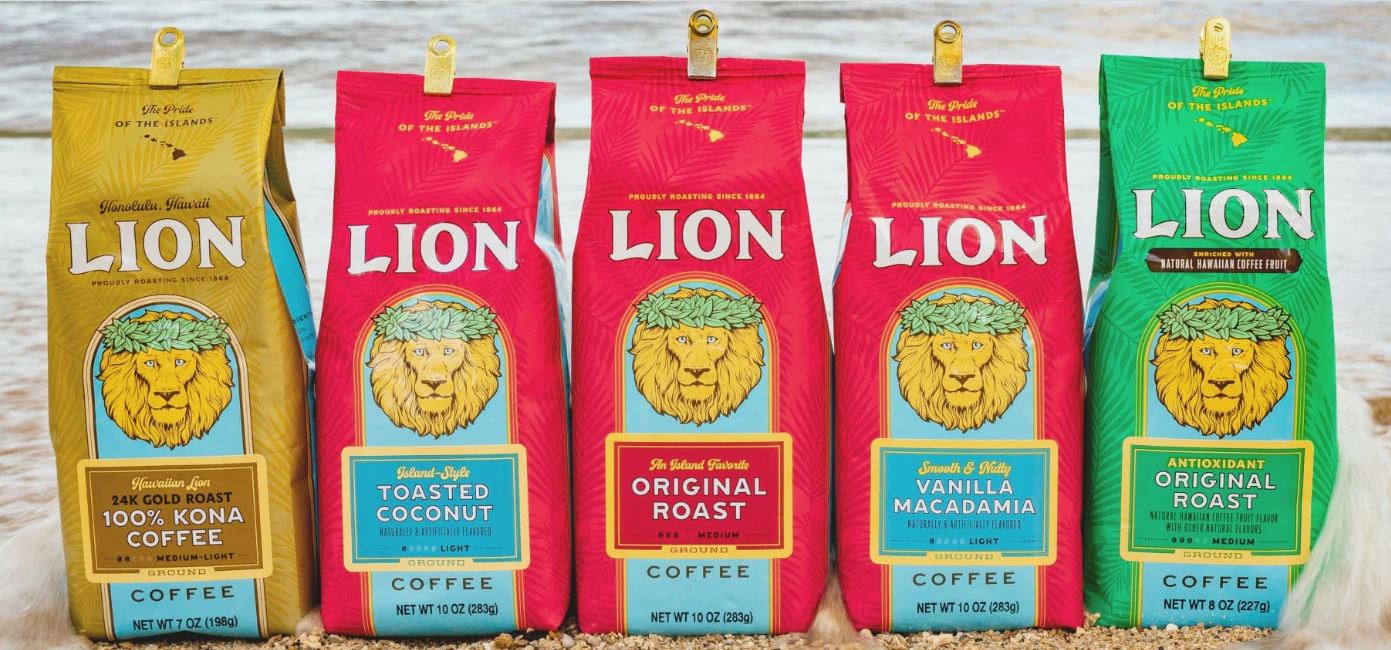 $5 shipping on $29 to USA – don't miss out! 
Treat yourself to your favorite taste of aloha and get $5 flat-rate shipping on $29 to any USA address.
No coupon required, flat-rate shipping will appear in your shipping options.
Why not treat yourself to our new 2021 Holiday Flavors!  

Please note: Sales and promotions are for website sales only and do not apply to cases, wholesale accounts, retail stores
or Lion Café and may not be combined with other coupons or discounts. Orders with a product total of  $29+ after any coupons or discounts are applied will enjoy $5 shipping to any USA address.

HAWAII COFFEE COMPANY DEAL
Lion – The Best Coffee in Hawaii
Lion Coffee is one of America's oldest major coffee companies. Originally founded in Toledo, Ohio in 1864, Lion moved to Honolulu, Hawaii in 1979. For the past 40 years, Lion has been roasting Hawaii's favorite coffee. We make a mix of delicious traditional roasts, tropical flavored coffee, and premium Hawaiian coffee.
Local consumers in Hawaii love Lion. We have been selected as the Best Coffee in Hawaii! Try Lion today to see what makes us Hawaii's Favorite First Cup!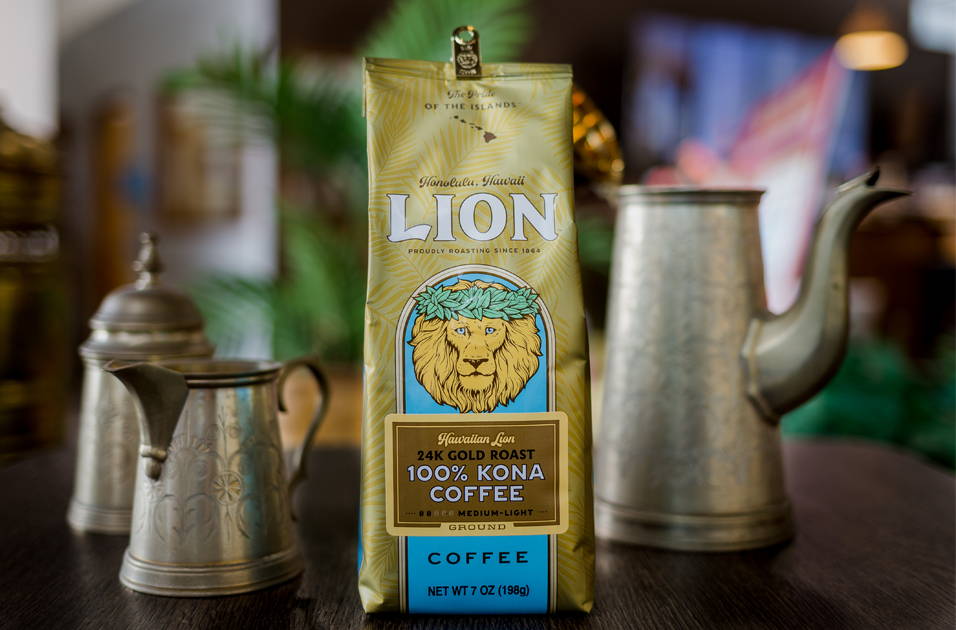 ---
Our premium 100% Hawaiian Coffees are always easily identified by their gold bags. These "Hawaiian Lion" coffees represent the best coffees grown, processed, and roasted right here in Hawaii. Whether you are looking for 100% Kona or another fine Hawaiian coffee, look no further!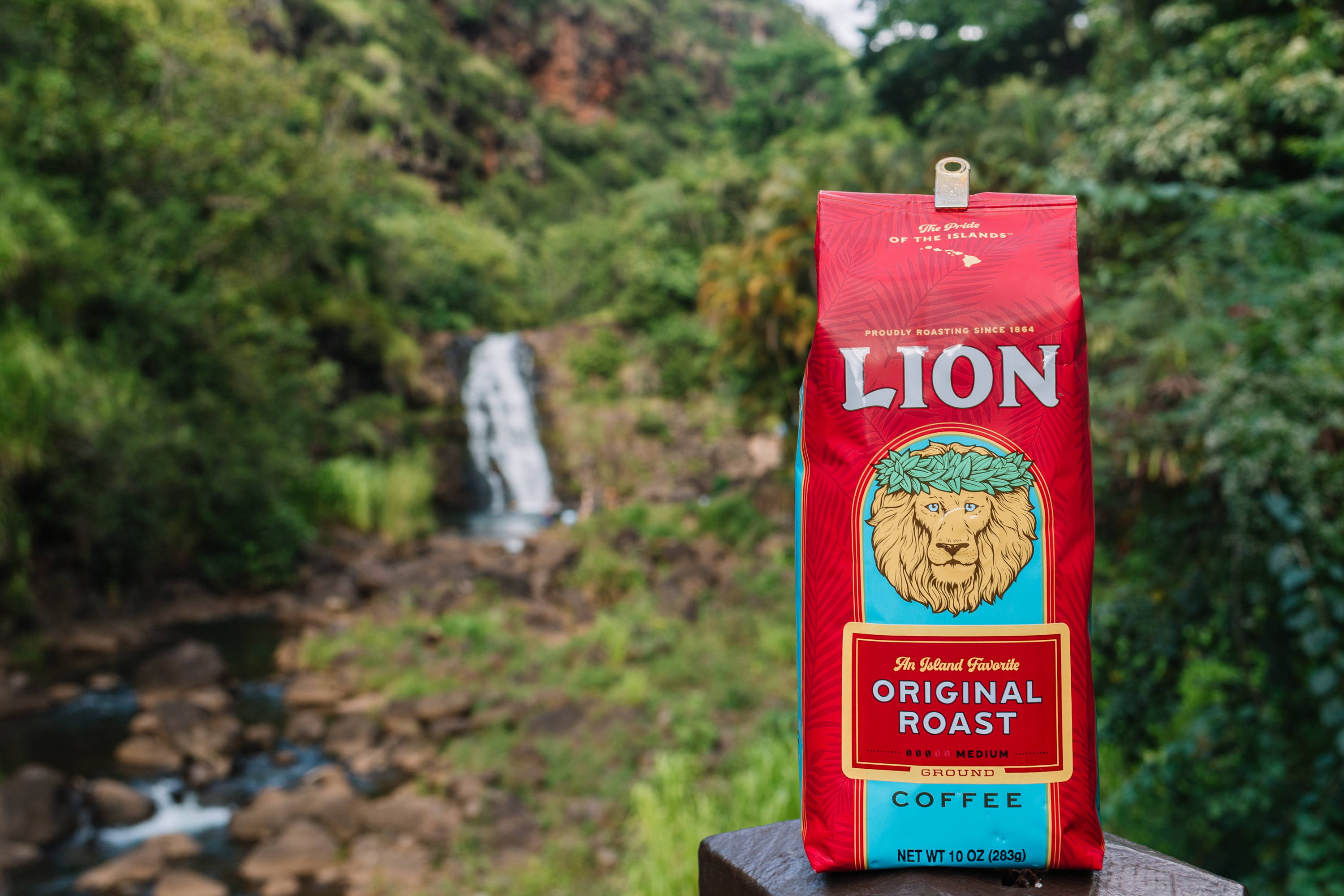 ---
Our classic roasts are perennial customer favorites. These coffees are available in a variety of roasts and blends ranging from the lighter Gold Roast, to the medium Original Roast, to the rich and flavorful French Roast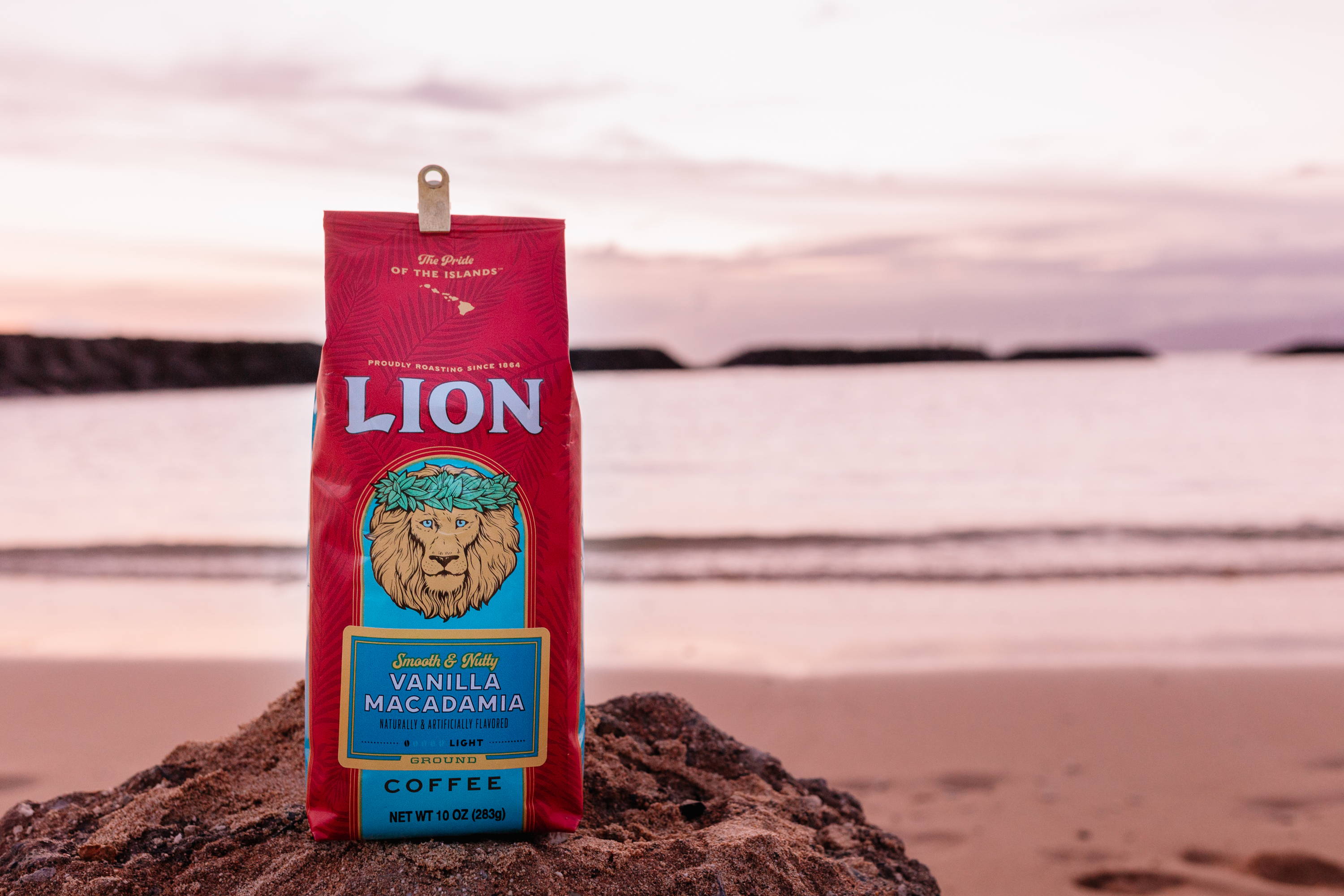 ---
Our flavored coffees are among our most popular. Lightly roasted to provide the perfect foundation to celebrate each flavor, we infuse the unique flavors of Hawaii to your morning cup of coffee. Our flavored coffees are alergen and sugar-free, so enjoy!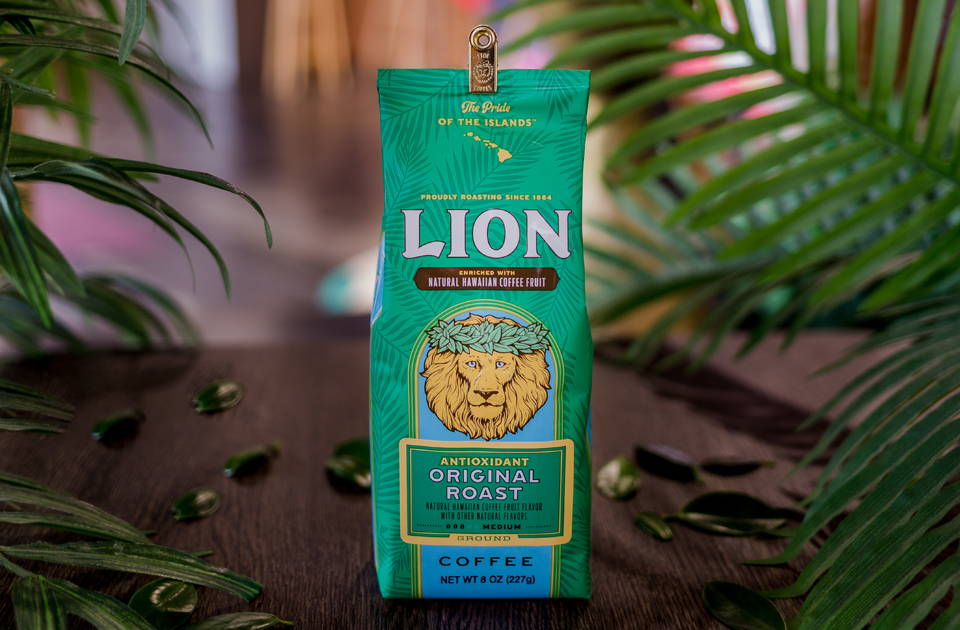 ---
Looking for an antioxidant boost? We have taken the extract of the Kona coffee cherry and blended into some of our classic coffees. Coffee cherries have higher antioxidant levels than even blueberries, and the cherry adds a slightly fruity note to these classic coffees.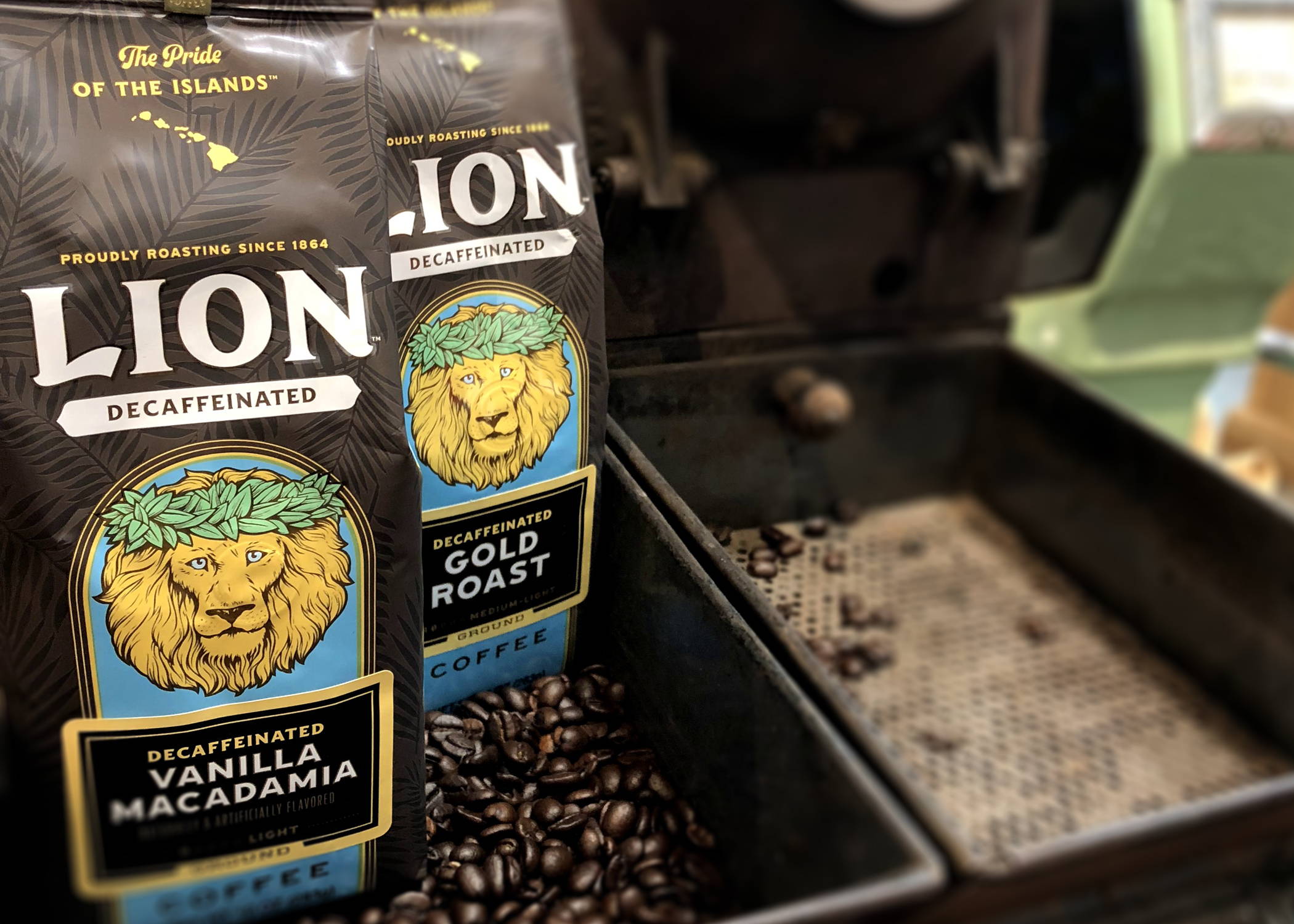 ---
Whether you are looking for an evening coffee or just want to cut back on the caffeine, you can still enjoy a great cup of Lion, in either Gold Roast or Vanilla Macadamia Nut flavors.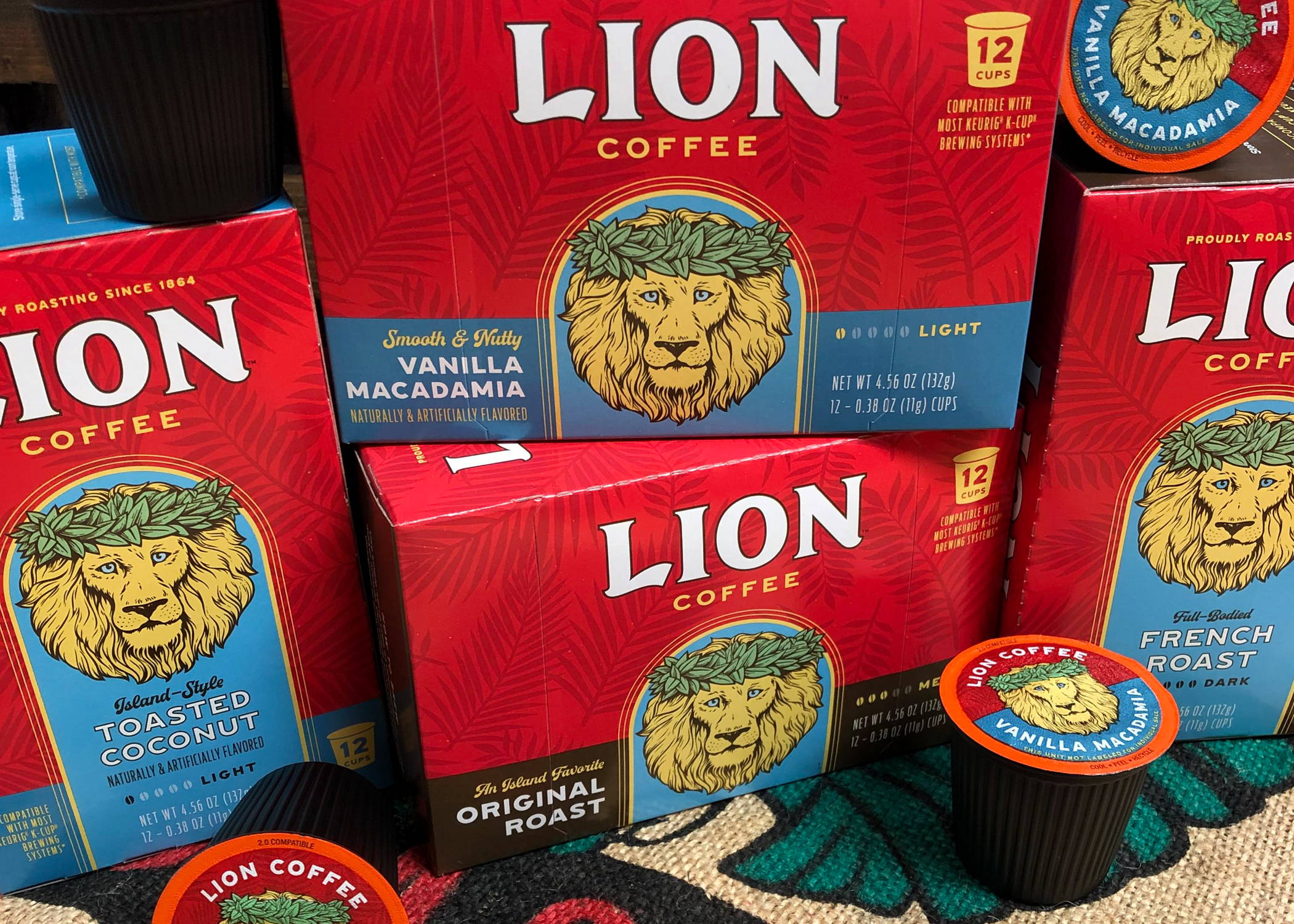 Lion Single Serve Coffee Pods
---
Looking for a great coffee to make in your Keurig(TM) or compatible brewer? We have a selection of Lion Coffees to suit. Made with 11 grams of coffee each versus the typical 10 grams, our pods brew a stronger, richer cup of coffee.
Lion Coffee Reviews: One of America's oldest coffee brands, Lion Coffee is beloved by locals and visitors alike. Lion creates quality blends and classic Hawaii flavors that make your first cup the closest thing to a morning walk on the beach. Sandy toes not included.
Lion began perfecting great tasting coffee over 150 years ago. Today we blend this history and expertise with the world's finest beans to evoke the taste and spirit of our home in the Islands. Wake up with Lion.
1864… Hello, Lion Coffee!
One of America's oldest major coffee companies, LION Coffee roared into life in 1864 in Toledo, Ohio. In 1979, LION moved to Hawaii to focus on the only beans grown in America. That was the year Hawaii officially became LION Coffee Country!
LION's regal standards demand the finest beans, fancy roasting, freshness, and an abundance of cheer! Today, our cheery red bags emblazoned with "the cup that cheers!" are shipped to coffee lovers around the world.
When you drink LION Coffee, you are enjoying over a century of wisdom in every roast.
LION Coffee roared to life in 1864, introducing the fine "fancy roasting" of coffee with an abundance of cheer! Today, our cheery red bags emblazoned with "the cup that cheers!" are shipped to coffee lovers around the world. When you choose LION Coffee, you're enjoying over a century of wisdom in every roast. Lion Coffee… it's practically an American tradition!
LION Single Serve Coffee Pod Sampler
Sample three of our top sellers with our new one cup bundle. Perfect as a gift or a convenient way to experience the coffees our customers keep coming back for. With this bundle get 36 morning cups in a variety of flavors:
1 Box of Lion Vanilla Macadamia – Lightly roasted with smooth vanilla notes and subtle Macadamia flavor.
1 Box of Lion Toasted Coconut – Lightly roasted with a satisfying coconut aroma.
1 Box of Lion Original – a medium roast, smooth and clean, yet bold.
Each box contains 12 single cup pods.
Compatible with most KEURIG™ K-CUP™ Brewing Systems. Not for KEURIG™ VUE™.
LION™ Coffee is not affiliated with KEURIG, INC.
KEURIG™, K-CUP™ and VUE™ are registered trademarks of KEURIG, INC.
Lion Coffee Lion Original is noted for its subtle sweet taste and flawless smooth finish. This original coffee blend is created from hand selected coffee beans from specific growing regions. And? Original Lion Coffee blend has satisfied our customers and friends since 1864. Over the years, they have come back to this coffee again and again. It's over a century of coffee roasting experience in your cup!
Lion Coffee Toasted Coconut – A Lion Coffee all-time favorite flavored coffee. You will find something very enjoyable about the aroma and nutty taste of our Toasted Coconut Coffee. That satisfying aroma and coconut coffee flavor from lightly roasted coffee beans make this a very special coconut coffee.
LION Macadamia Coffee is an Island favorite. Has a more robust Macadamia Nut Flavor than Lion Coffee's Classic Macadamia Nut Coffee. The coffee beans are roasted slightly darker than the original. Brewed, this Macadamia Coffee has a very rich buttery nutty Macadamia flavor.
Lion Hazelnut Coffee is one of the most popular coffee flavors worldwide and our LION Hazelnut flavored coffee is both distinctive and tropical. This Hazelnut flavored coffee is a special blend of International coffee beans with a predominant Hazelnut flavor and subtle background notes of coconut. A wonderful taste of the islands!
Lion Coffee Reviews
The coffee is excellent. It arrived super quickly once it was back in stock. It's not super bold, has great aroma and is very smooth. Not bitter at all. Will definitely buy again.
Jenny Lee
Excellent coffee with no bitter aftertaste, very smooth!
Amazon Customer
Worth every penny!
I use it with my Keurig using a reusable filter.
Houstonian
Very good coffee. Highly recommend.
AC
Related Post – Hawaii Coffee Company