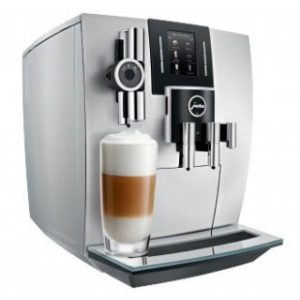 Jura J6 Refurbished Sale & Discount
18 Reviews
WAS: $2,999.00 SALE: $1,799.00
In Stock
30 Day Satisfaction

 Guarantee

1 Year Warranty

Lowest Price

 Guarantee

FREE Shipping Mainland US

 over $50
Jura calls this smart coffee machine the J6, "One of the most attractive ways of expressing good taste," thanks to its combination of state-of-the-art technologies and unmatched design aesthetic. This Bluetooth enabled coffee maker features all of the high-tech touches Jura is known for, including the Aroma grinder, Pulse Extraction Process and TFT display along with one exciting new functionality: The ability to control the Refurbished Jura J6 from your smartphone. This refurbished Jura J6 is undoubtedly the machine of the future, available in the present.
1st In Coffee Refurbished Coffee Machine Deal
Refurbished Jura J6 Key Features:
The Aroma G3 grinder preserves the aroma while grinding to the optimal fineness.
Pulse Extraction Process (PEP) that optimizes extraction time by pressing water through the ground coffee in short bursts
Thin Film Transfer (TFT) color display combined with a rotary dial to ensure that you can access all of its features with ease.
An intelligent water system that uses RFID technology for automatic filter detection.
Unparalleled, award-winning design.
High Tech Innovation
The Jura J6 smart coffee machine pioneered the future of making specialty coffee at home. The new Jura app connects the J6 to a smartphone or tablet via a Bluetooth transmitter, making it easier than ever to access all of the machines capabilities. Download the app and program preferences, including amounts of beans, strengths and temperatures for multiple specialty coffees for the perfect (hands-free) brew. Jura Smart Connect Bluetooth adapter is an optional accessory. Click here for more details.
---
Optimal Operation
The Jura J6 features a Thin Film Transistor (TFT) display and a rotary dial to provide easy access all of its features. Simply use the color display to select your beverage of choice on the screen and wait for the J6 to work its magic. These advanced functions give you all of the tools you need to make brewing a great cup specialty coffee easier than ever.
---
Barista Quality Brews
Jura is known for its patented technologies such as the Pulse Extraction Process (PEP), which enhances extraction time and optimizes the brewing process. You'll taste the nuances in aromas in brews ranging from coffee and cappuccino to latte macchiato—it's also perfect for brewing short specialty coffees like espresso. Best of all, it happens with the touch of the button.
---
Outstanding Aesthetics
You won't want to hide the Jura J6 in a cabinet. The award-winning design features a chrome-plated coffee spout, glass cup grille and rotary switch with blue crystal design and the redesigned storage compartment offers an easy access spot to hide the interchangeable milk spout and milk pipe. Like all Jura machines, the J6 is manufactured from quality materials with Swiss precision.
Key features of the Refurbished Jura J6:
Pulse Extraction Process
The Pulse Extraction Process is a new technology that enhances extraction time. The result is an optimized process that showcases the nuances in aromas—even if you're brewing short specialty coffees like espresso. Best of all, it happens with the touch of the button on the Jura J6 coffee machine.
One Touch
While all Jura coffee centers can make an espresso or coffee at the touch of a button, Jura One Touch machines let you prepare milk based drinks (cappuccino, latte, macchiato) at the touch of one button. By connecting a container of milk to the Jura J6 coffee machine's dual nozzle, both steamed milk and coffee can be prepared directly into your serving cup.
TFT display with Rotary Selection
The J6's new user interface sets a new standard. Simply turn the Rotary Switch and a list of coffee drinks appears on the color TFT display. All you need to do is press the button once, and you will soon be drinking your specialty coffee choice. You can even personalize the look of the machine by selecting wallpaper for the TFT display. The colorful choices include red coffee berry, blue sky with clouds, roasted coffee beans, white coffee flower, green leaves, white background, tan background and green coffee berry designs.
Height Adjustable spouts
The height of the cappuccino spout is adjustable between 4.3 and 6 inches. The coffee spouts are adjustable between 2.6 and 4 inches. The coffee spouts are also width adjustable. This allows you to create the perfect drink in both a small espresso cup and in any glass up to 6″ tall.
Fine Foam Technology
This revolutionary development from Jura ensures milk foam that is fine & light. The foam is both fine and compact, giving it a creamy consistency with a subtle sweetness. The cappuccino spout has two separate chambers in which the milk is frothed twice. Any bubbles that form will burst, compacting the foam and making it extremely fine.
Features and Specifications of the Jura J6 Coffee Machine
15 bar power pump delivers delicious, high-pressure brewed coffee every time
Integrated conical burr Aroma G3 grinder with variable fineness adjustment grinds twice as fast as older style grinders.
Programmable strength, can grind from 5 to 16 grams per serving, 10 levels of choice
Programmable serving size
9 oz. bean hopper with air tight aroma preservation cover
Automatic funnel system accommodates pre-ground coffee, allows you to use ground coffee instead of beans
Large 70 oz. removable water tank
Clearyl Smart water filtration, removes chlorine, calcium and other impurities for better tasting coffee and extended machine life.
Automatic filter detection, powered by RFID technology. This makes using a filter easier and more reliable than ever before.
Three temperature levels of hot water; for tea, cup warming or café Americano
Three programmable coffee brewing temperatures
Fast heating 1450 watt stainless steel lined thermo-block can handle continuous use
Smart monitors tell you when to add water, fill beans, empty used coffee empty drip tray and when to replace water filter
Silver finish with glass cup platform.
Automatic cleaning function
1450 watts with Energy Save Mode and Zero Energy Switch
One water filter, 2 cleaning tablets and a 100 ml bottle of milk system cleaner included
Dimensions: 11.2″ Wide, 13.5″ High, 17″ Deep – 24 pounds
1 year warranty
Made in Switzerland
Refurbished coffee machines are the best sellers on 1st in Coffee. Right now, the top three machines are deeply discounted. Click the text links below to help you  get the best coffee makers at even better prices.